North America
6th North American Kagyu Monlam 2015
Date: August 26th-30th, 2015
Location: Thrangu Monastery Canada
8140 No. 5 Rd
Richmond, BC V6Y 2V4
TEL: +1-778-297-6010
Email: kagyumonlam@thrangumonastery.org
Website: http://kagyumonlamnorthamerica.org/
Please consult the schedule for more detailed information.
Registration
Compulsory online registration for all attendees: REGISTER NOW.
Toronto Kagyu Monlam 2015
Dates: 26th - 28th June, 2015, 8 a.m. to 4 p.m. daily
Venue: The Tibetan Canadian Cultural Centre (TCCC)
40 Titan Road, Etobicoke , Ontario, Canada M8Z 218 
(Buses provided from KDSL at 7 a.m. daily) 
Sponsor: Karma Sonam Dargye Ling,
7 Laxton Road, Toronto M6K 1KB
TEL: (416) 653 5371
Website: www.ksdl.org 
Contact: Valerie White (416) 463-8538
7th North American Kagyu Monlam 2016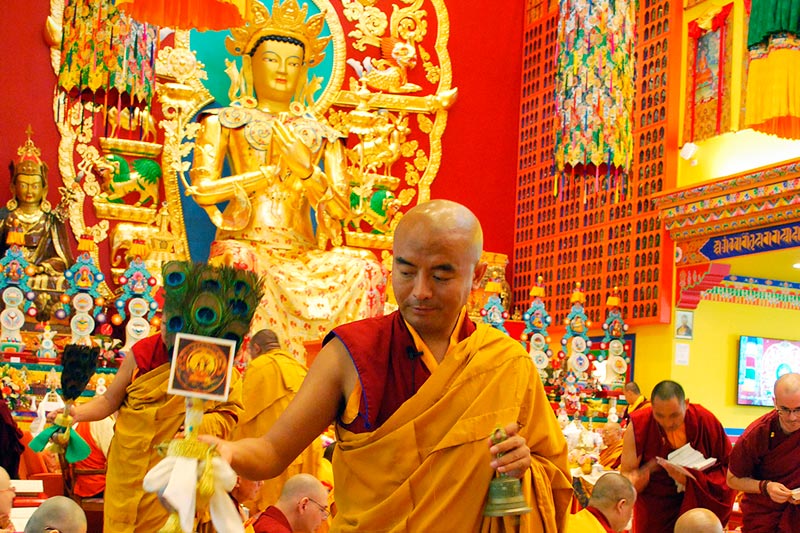 The 7th North American Kagyu Monlam at Kagyu Thubten Choling Monastery was a great success!
We would like to express our deep gratitude to the Very Venerable Yongey Mingyur Rinpoche for presiding over the Monlam and for being a shining light of inspiration for us all. Our heartfelt thanks to all the lamas who traveled from far away to attend, and to all who helped in any way to make the Monlam and Maitreya Center possible. Thanks to all who participated in the prayers for peace in person, online or in spirit.
May we all give rise to bodhicitta, the pure intention to awaken for the benefit of all beings.
We look forward to the 8th North American Kagyu Monlam to be hosted in 2017 by the Karma Kagyu Association of Canada in Toronto!
For more information visit the 2016 North American Kagyu Monlam website at www.kagyumonlamny.org.
5th North American Kagyu Monlam 2014
Date:
May 9, 10, 11, 2014 (Friday through Sunday)
Organizer:
KAGYU THEGCHEN LING
Venue:
Tibetan Buddhist Meditation Center
26 Gartley Place
Honolulu, Hawaii 96817
Website:
www.kagyumonlamhawaii.org
Contact Person:
Karen Honma,
sangyedolma95@yahoo.com
/ 808-220-1196
4th North American Kagyu Monlam 2013
Date: 
June 26 - 30, 2013
Organizer:
 Karma Kagyu Association of Canada

Address: 
40 Titan Road, Etobicoke, ON M8Z 2J8
Tel: 
(416) 410 – 5606
Website: 
http://www.tcccgc.org/
3rd North American Kagyu Monlam 2012
Date: 
June 29th to July 1st, 2012

Venue: 
San Francisco, California at the Hall of Flowers in Golden Gate Park
Contact: 
Kagyu Droden Kunchab
(415)752-5454
Address: 
1892 Fell Street, San Francisco, CA 94117, USA
Email: 
deborahpricejanke@att.net
Website: 
http://www.californiakagyumonlam.org
2nd North American Kagyu Monlam 2011
Dates:
 June 22 – 26, 2011
Contact:
 Rabjor Dawa / Riza Weinstein
Presented by:
 Karma Kagyu Association of Canada
Hosted by:
 Thrangu Monastery Canada
Address: 
8140 No.5 Road, Richmond,British Columbia Canada V6Y 2V4
Phone:
 778-297-6010 and Fax: 778 297 6033
Email:
 kagyumonlam@thrangumonastery.org
Website: 
http://kagyumonlamnorthamerica.org
1st North American Kagyu Monlam 2010
Date: July 13, 14, 15, 16, and 17th, 2010
Venue: Karma Triyana Dharmachakra (KTD)
Address: 335 Meads Mountain Road, Woodstock, New York, USA
Presiding master: The Very Venerable Khenchen Thrangu Rinpoche

Organizer: Karma Triyana Dharmachakra (KTD), Woodstock, New York, USA
Tel: 845-679-5906 Ext. 10
Fax: 845-679-4625
Website: www.kagyu.org 
e-mail: office@kagyu.org
Co-sponsor: Kagyu Thubten Choling, Karma Thegsum Choling-New Jersey